In addition to the electro-surgical units shown in Electro-Surgical Generators we also make a unit specifically designed for dental use.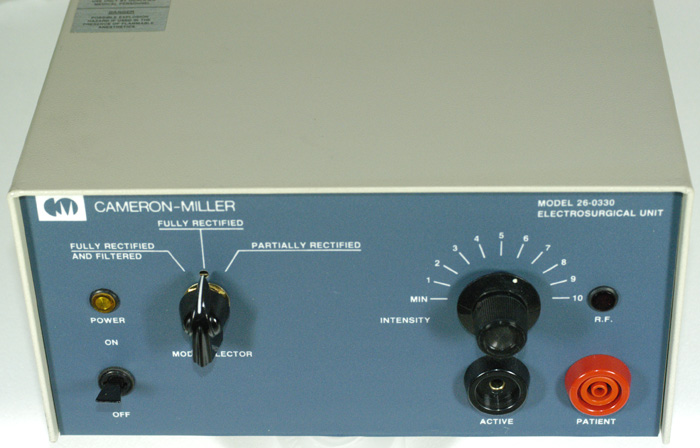 This electro-surgical generator incorporates solid state circuitry, and is compact, lightweight, and convenient.
The Model 26-0330 Dental electro-surgical unit is powerful enough for any dental or oral surgery procedure. There is virtually no soft tissue procedure where it cannot be used to advantage.
Features include:
Isolated R.F. outputs which reduces the risk of alternate path burns.

Permanently attached foot switch.

When used properly, electrosurgery saves time, reduces postoperative pain, and produces scar-free healing.
Unit is provided with a permanently attached line (power) cord, and an instruction manual.
Maximum output power (+/- 10%):
Fully rectified & filtered (pure cut): 95 watts.

Fully rectified (blended cut): 75 watts.

Partially rectified (coagulation): 40 watts.
Dimensions: 5" high X 9.5" wide X 6.5" deep.
Weight: 7 pounds.
Please note that the most popular hand piece for dental use is our Model Number 26-1009. Details on this mini-chuck handle can be found under Handles.
In addition to the standard plate type return device (model 26-0991), we also have an insulated plate (model 26-1491), and a wristlet (model 26-1391). Details are available in Patient Return Devices.